13 Oz Nutella for 3.13 Dollars: That's the sweetest exchange ever! Can you tell three names who don't like Nutella? I can't, possibly you can't either. All around the world there are millions of people who crave for this sweet hazelnut spread. As one of those Nutella addicts and as a muffin lover, I tried to bring them together and came up with this great recipe: Cranberry Nutella Muffins.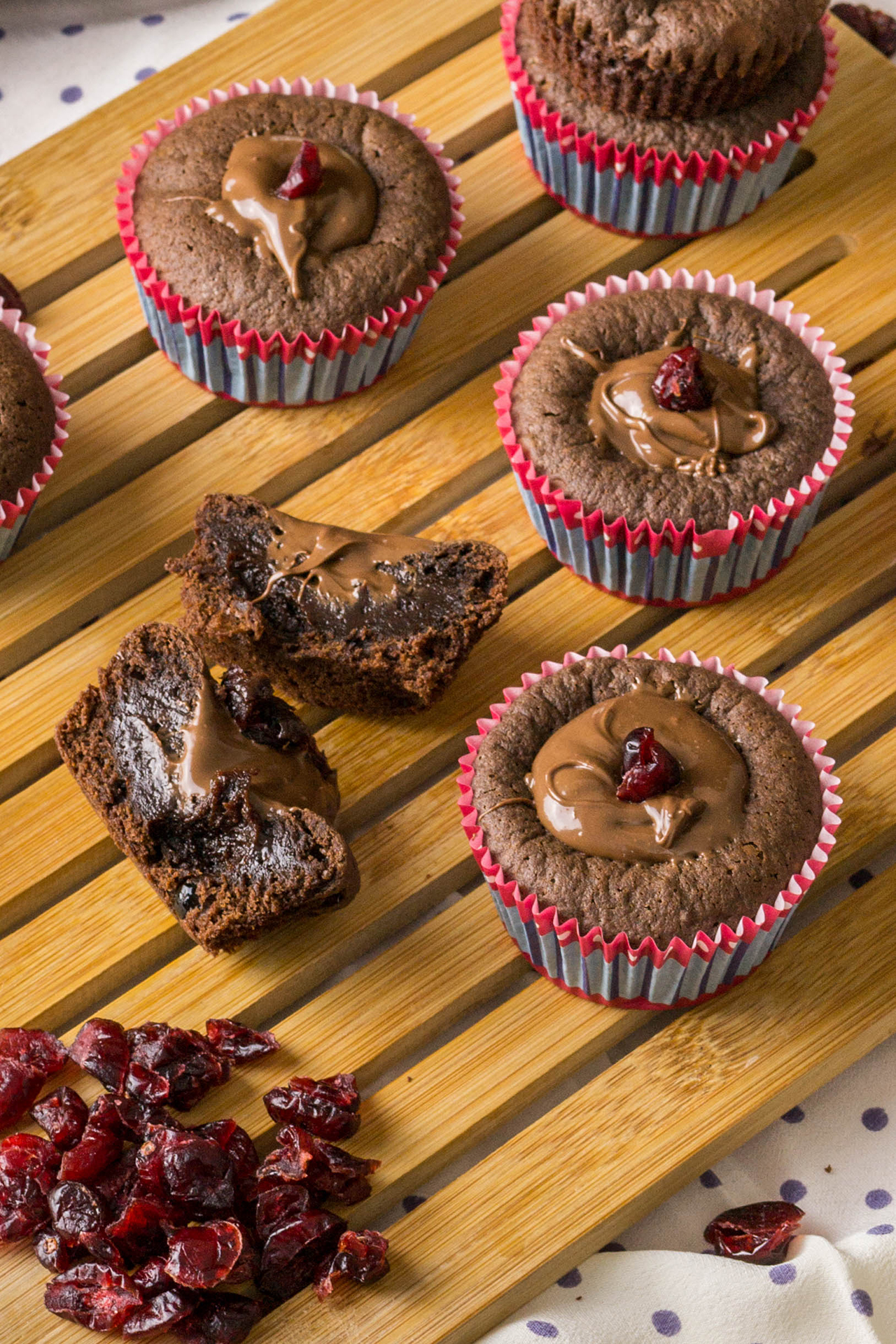 This is a rather easy recipe as Nutella constitutes the main ingredient. You don't have to mix a lot of things to get the right proportion for the dough. You just need some milk, cocoa, vanilla, baking powder and eggs. Cranberries give a great taste both inside and on the top of the muffins. But of course you can substitute them with other berries or any kind of dried fruit you like.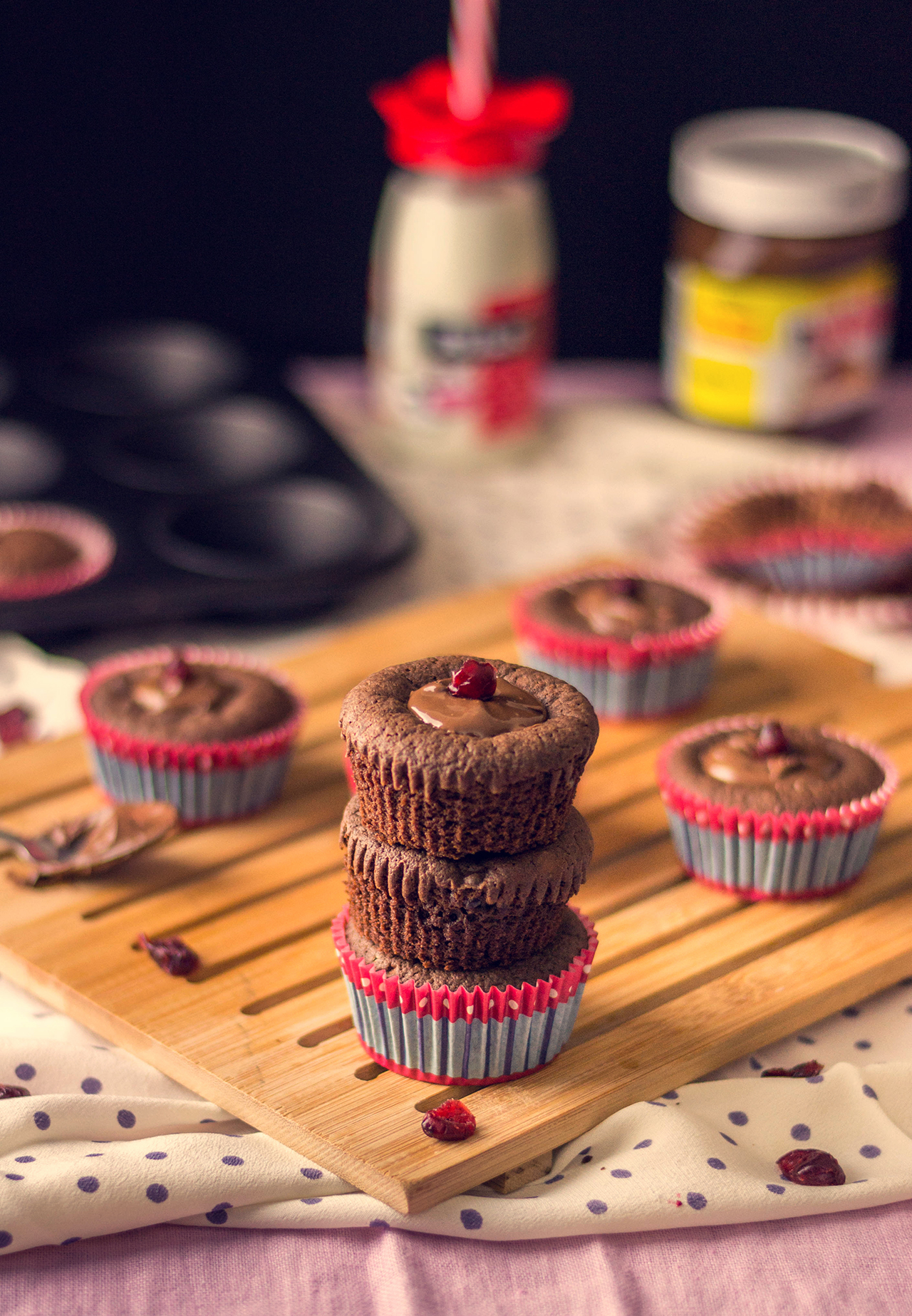 Actually I have two different recipes for cranberry Nutella muffins. They have the same ingredients, but cooking time changes for different textures. My husband likes it dry inside and my son likes it wet. The recipe below is the one for my son. It is wet inside and I take it out of the oven when the top is cured. It collapses a little bit in the middle afterwards. But you shouldn't worry about that. That means your muffins are wet inside, and you can fill the collapsed center with some more Nutella as I always make.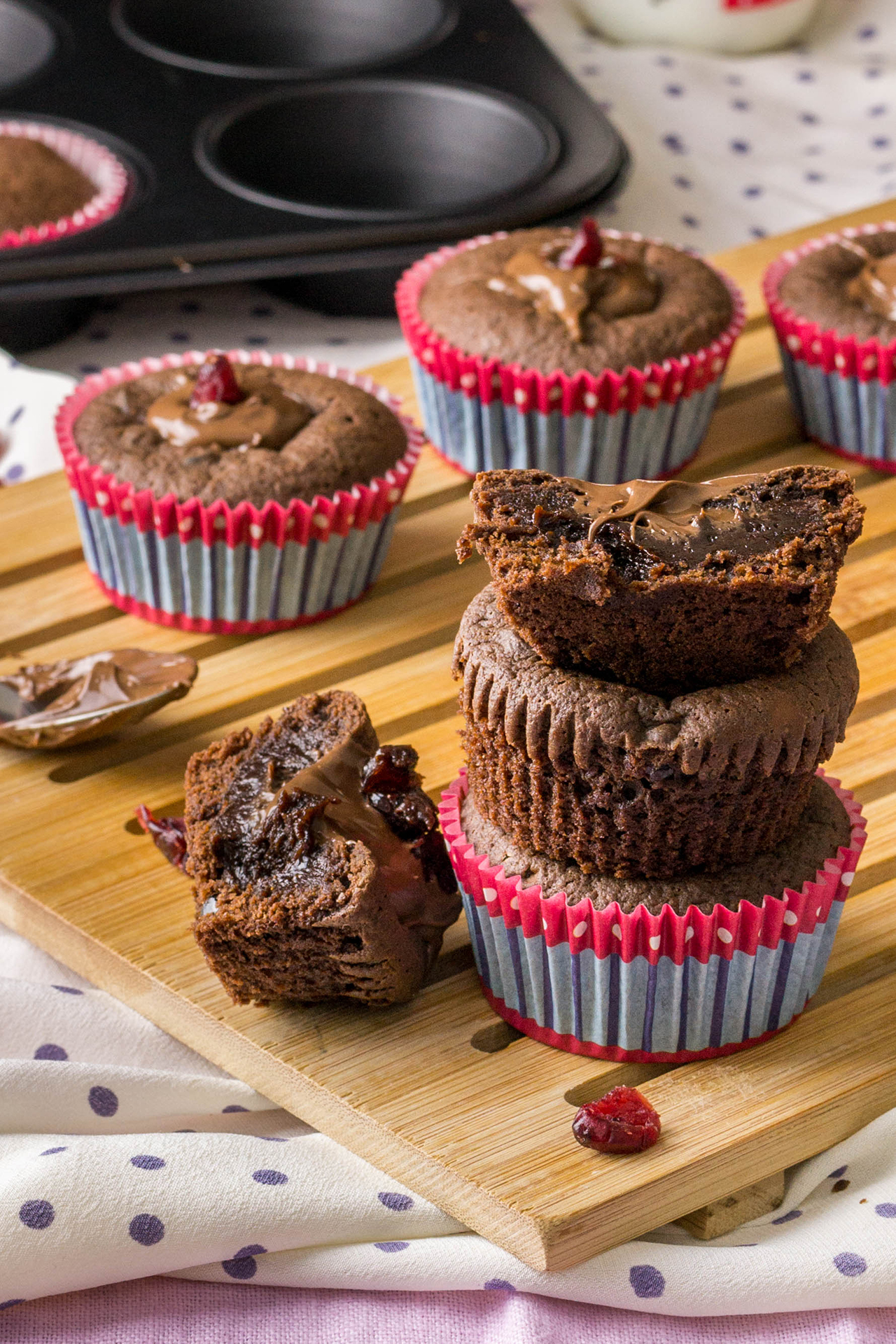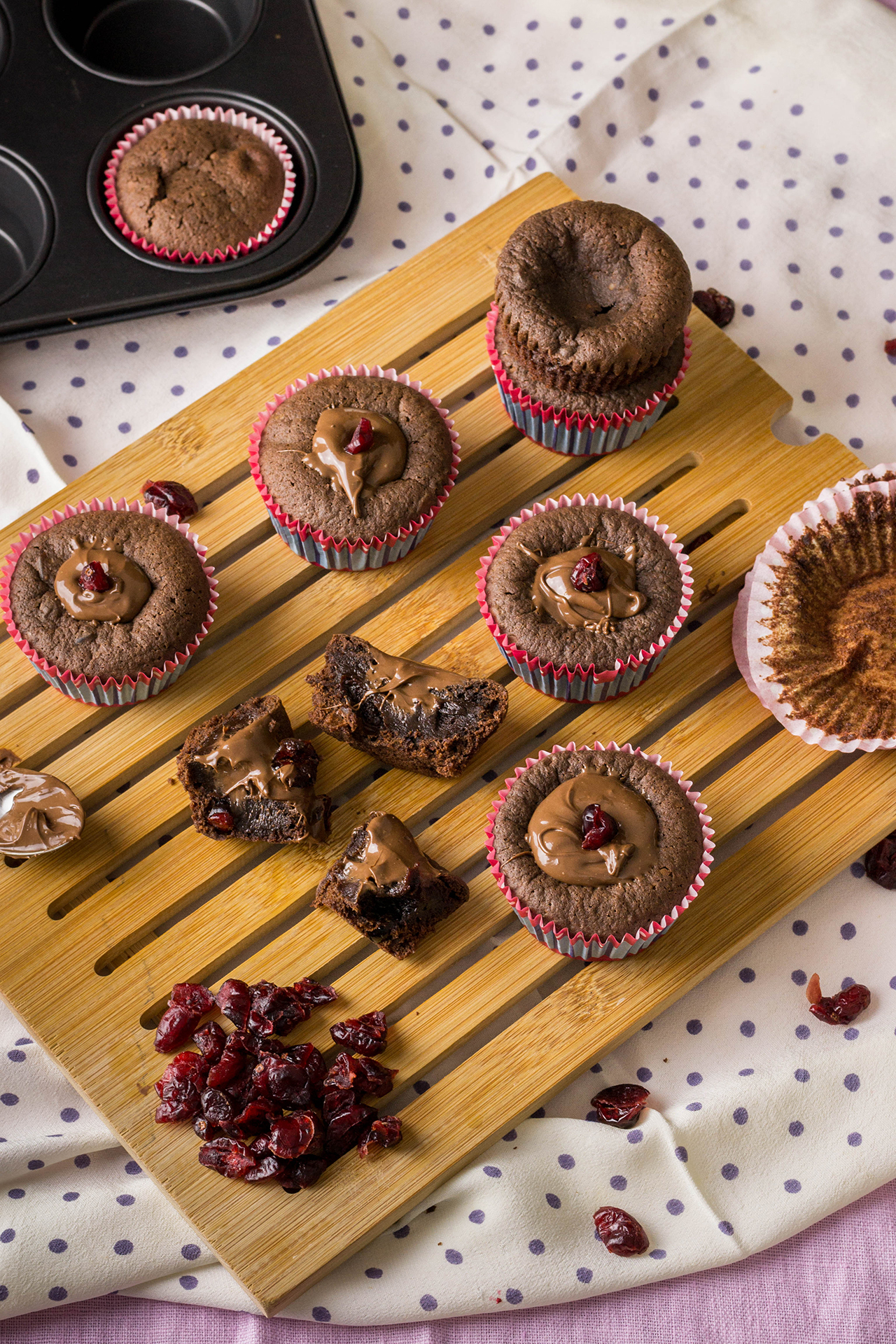 When I bake them for my husband, I keep the muffins longer in the oven for a drier texture. If you want them drier, you can wait until your muffins rise. That makes about 5 more minutes baking, but your oven may need more or less time.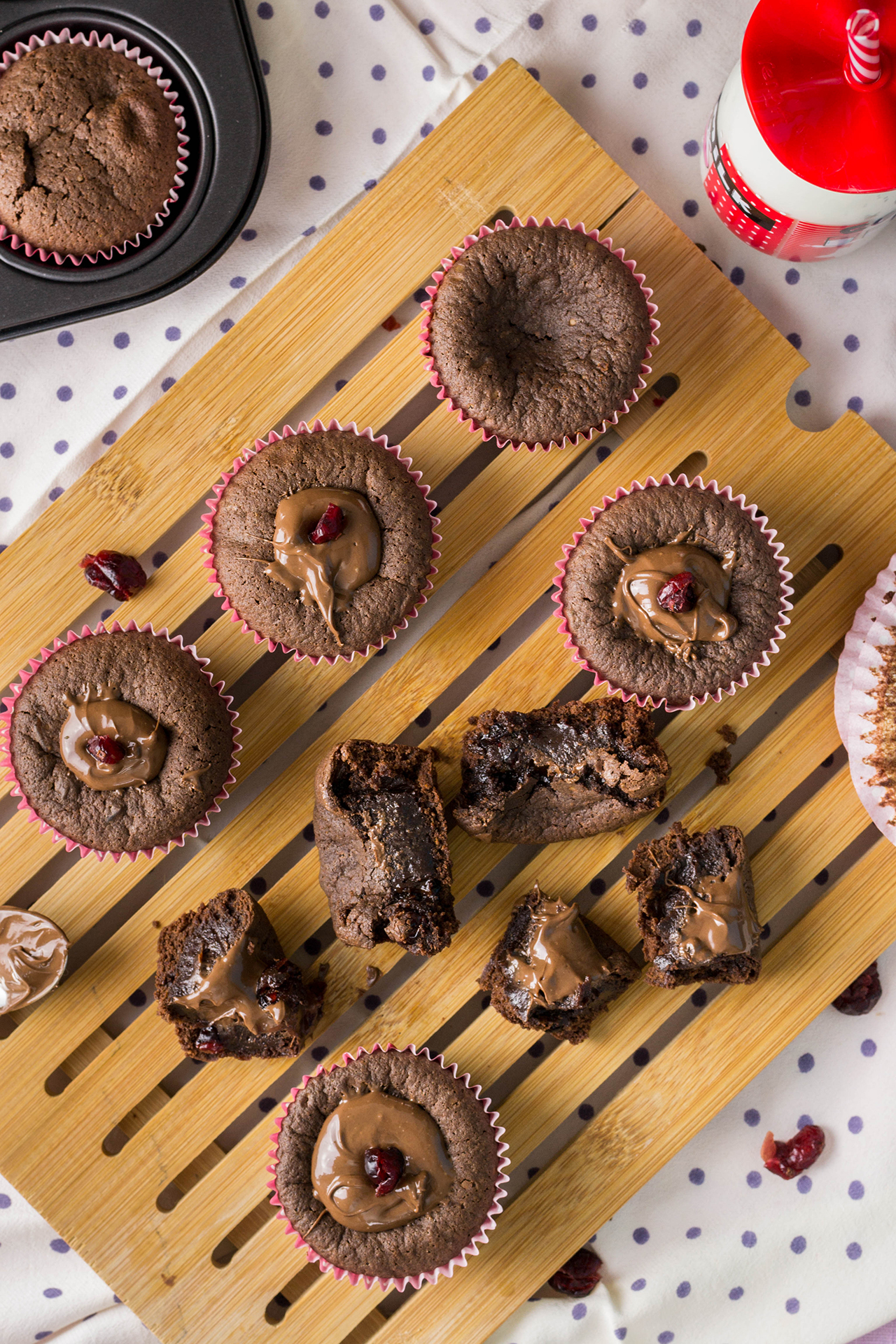 In both cases your muffins will taste great. We enjoy these muffins with some cold milk. Milk sweeps away all the flavors and you take another bite to get the flavor again.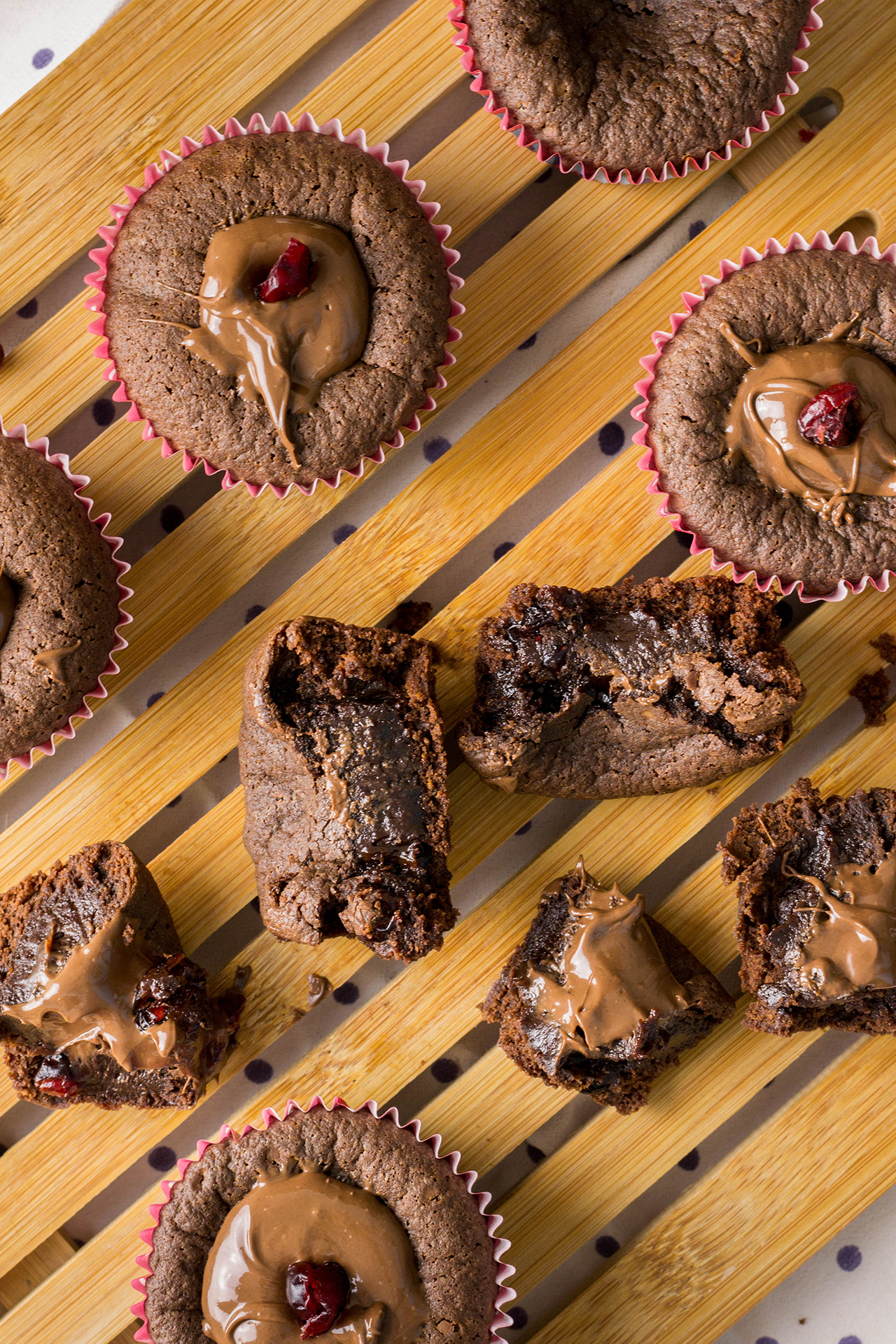 Cranberry Nutella muffins are great for all Nutella addicts. They are easy and fast to make and are incredibly delicious. Topping the muffins with a little more Nutella makes them even sweeter and they look like Nutella cupcakes. Give them a try, you won't regret!
Yields 8 - 9
Cranberry Nutella Muffins
Cranberry Nutella muffins. The sweetest muffins ever!
10 minPrep Time
13 minCook Time
23 minTotal Time
Ingredients
1 cup (11 Oz) Nutella
9 tbsp flour
1/4 cup dried cranberries
1 tbsp cocoa (flour and cocoa should not exceed 100gr or 3.5 Oz)
1/2 tsp turmeric powder
1/2 tsp sugared vanilin
1/2 tsp baking powder
2 eggs
1/8 cup milk
Instructions
Pre heat oven to 180C / 350F
Mix eggs and Nutella with a whisk or spoon
Add the other ingredients and mix until combined
Add the milk and and mix to make softer
Divide the mixture into 7 - 9 baking cups
Bake for 12 - 13 minutes until the top is cured
http://rollingspoons.com/cranberry-nutella-muffins/
All Rights Reserved - RollingSpoons.com